Christopher Reeve
SUPERMAN
1978 costume
Click on all pics for closeups
FINALLY!
I have my ultimate Christopher Reeve figure!
This has been a figure that has taken more than two years to get made the way I've always wanted him.
I had a Reeve Supes posted here some time back, and I was very happy with him too. At the time anyway. But, the head I used, though an utterly terrific sculpt by the magnificent Jim Mattox, was not designed for a 12" figure but for his original and beautiful, freestanding bust, and was therefore not the right size or neck form for a figure.
Plus, my less than immaculate Mego Superman bodysuit that had definately seen some previous wear and play time made him look beat up a bit.
So, long story short....I remade Superman again, from the ground up.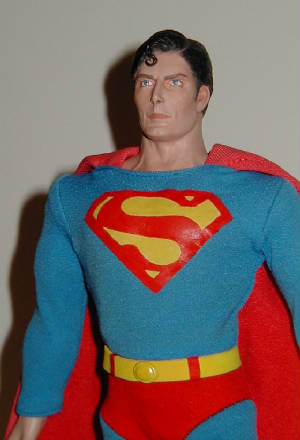 With a lot of informational assistance, I resculpted my own Christopher Reeve head. I had the movie on DVD and access to the Net to find great picture references. So, I may or may not have caught him to perfection, but it was my very best attempt.
I had the great fortune of meeting, via the internet, Anthony Durso, who's boxes for Mego and other action figures online are superb.
(see link below).
I had to have one for my new Reeve Superman.
Thanks Anthony for a job well done!
(Click on pic for CU)
I have wanted this figure for a long time. I have had great feedbacks about it being a "Dream figure" to other very nice, kind things. But that dream comment, I think it's true. I wish it was out there for the world.
We all loved Chris and having this is a dream fulfilled for me.
So, with that said I give him my final tribute...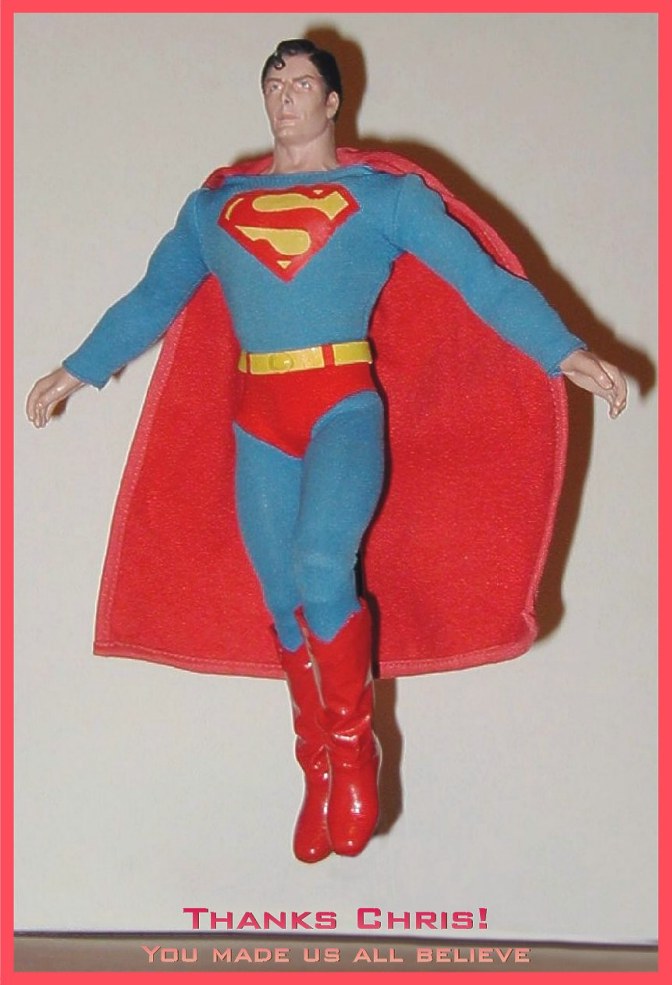 And please, feel free to drop by Chris' website and make a donation to help his great cause
And take in all these related websites:
SUPERMAN and "S" emblem copyright/TM DC Comics and Warner Bros Pictures