Welcome to the year 1939...
The New York World's Fair was taking place....
The rumblings of World War II were beginning in Europe...
Movies like Mr. Smith Goes to Washington, The Wizard of Oz and Gone With the Wind were coming out to theatres across the country...
And a new form of entertainment, The Comic Book, was introduced into the National conciousness, thanks to what would become DC Comics and it's new caped super-hero known as, SUPERMAN....
....and into this world was borne...a new and terrifying hero...
A "Weird figure of the Night"....
The BAT-MAN!
One of my all time favorite characters!
This is my custom figure homage to Bob Kane's original creation!
Please note: These special one of a kind figures are a permanent part of my collection and are NOT for sale.
BATMAN ARRIVED TO LITTLE FANFARE...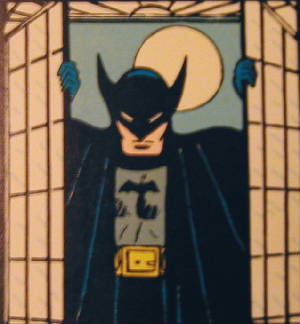 JUST SIX PAGES IN DETECTIVE COMICS #27
BUT HE LEFT A BIG IMPRESSION!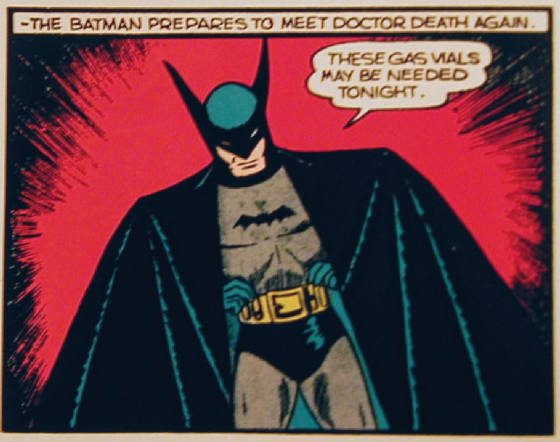 He took out his anger at the loss of his parents on the criminals of the city....
and he cleaned up Gotham!
One crook at a time!
Click on all figure photos for closeups!
I made this Batman 1939, as well as the now forgotten villain character of Dr. Death, as a response to the 2006 Custom Batman Figures website custom challenge for Summer 2006.
(see link at page bottom for these and a lot more obscure Batman character customs!)
Like the Mr. Freeze figure challenge before them, these figures were hard to research and make. Lots of time was spent just getting my materials and the fine display box, made by Anthony Durso of The Toyroom.
These are the 1/6 scale set I made.
Batman 1939 and Dr. Death,
and the doctor's henchmen, Crawdad (in brown) and Mr. Funn (in black), both of which are originals created by me just for this project.
I would like to thank Dr. MEGO for the making of the grey tights that I used for this Batman figure!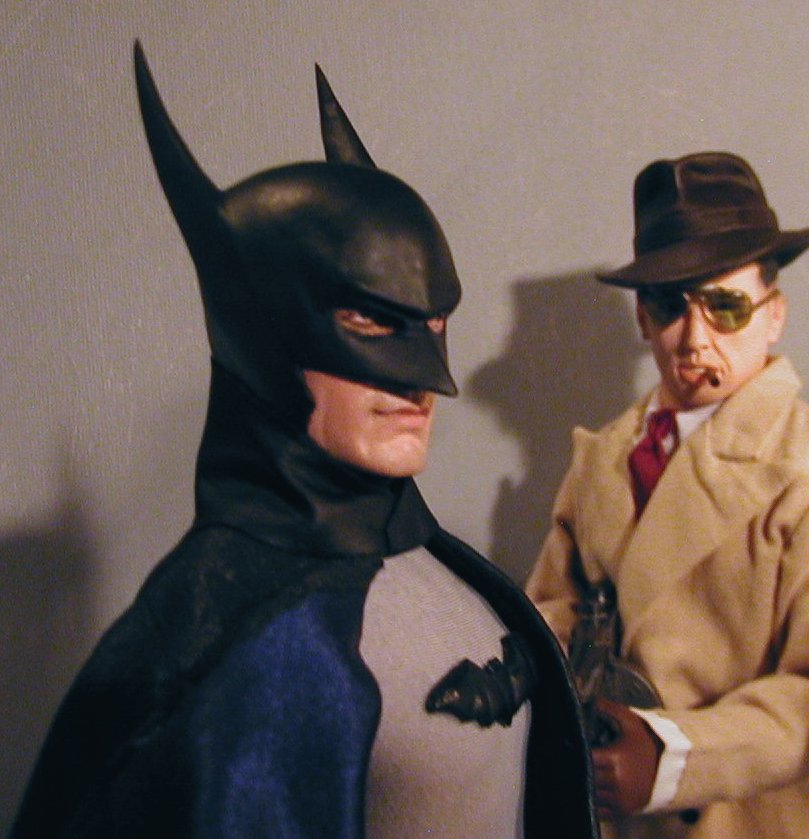 I don't think Crawdad likes The Bat-man very much....
No worries,
I don't think that The Bat-Man cares!
The front face of Anthony's fantastic box art!
Click on for closer view
And so, here is
THE BAT-MAN!
Below, for the first time on this site, is the entire BATMAN 1939 figure photo comic, made especially to showcase these original custom figures!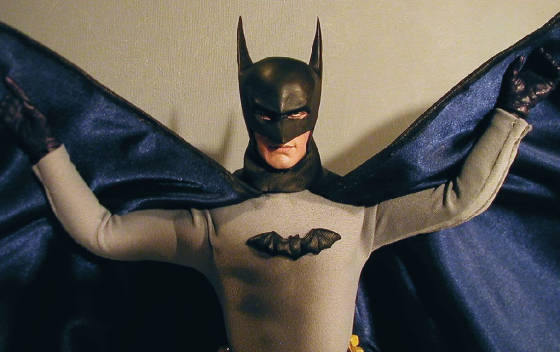 The end...or is it???
For many more original customs, including another look at the exclusive on-line Comic, complete with extra making of pages, click on the link below and see this and the many other Custom Creations at Will's Custom Batman site!
And ENJOY!
AND
To see my 1939 CATWOMAN figure,
click below and scroll down to my entry
CBF WINTER 2007 CATWOMAN FIGURE CHALLENGE
BATMAN and all related characters are TM and Copyright DC Comics
Comics images shown are from DC Comics Detective Comics #29 and #30, both published in 1939.
The sole purpose of this display is to show respect to and to promote the further enjoyment of the great characters of the DC universe through the creation of single 1/6 custom action figures.
None of the figures crafted on this page were created for sale or resale.